Matsunoya

As a new restaurant chain in Matsuya Group, we are planning to increase the number of "Matsunoya", at which customers mainly enjoy authentic pork cutlet and curry at a reasonable price.


Sushimatsu

"Sushimatsu" is a revolving sushi bar chain at which customers enjoy the fresh taste of sushi at a reasonable price. Sushimatsu is located mainly in front of stations and at shopping streets, targeting a wide range of customers.


Noodle dining Celery Flower

"Celery Flower" offers nouvelle noodles (ramen) including soba with a healthy amount of salt with well-stewed vegetables and chicken. It is very popular among many of our female customers.

Fukumatsu

"Fukumatsu" is a new sushi restaurant domain in Matsuya Group, at which customers enjoy authentic taste and high class-looking interior. Fresh seafood directly delivered from a fish market and professional works of sushi masters are seen at Fukumatsu.


Cafe terrasse verte

A cafe and restaurant that you can come to enjoy whenever the mood takes you. Our comfortable, barrier-free interior awaits you. We look forward to offering you delicious food and beverages in an ultra-fashionable setting.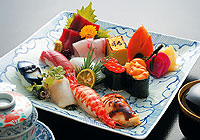 New business domains that create valuable tastes.
With our expertise in the creation of new tastes, Matsuya Foods wishes to create a rich food culture. From this desire, a wide range of tastes have been created in every genre. Our network has been expanded to include "Shohachi," known for its reasonably priced pork loin cutlet set meal; and "Fukumatsu" and "Sushimatsu", which were added as a new sushi segment in Matsuya Group for the first time. Matsuya Foods' sophisticated design sense is applied to the design of new format restaurants to provide comfortable surroundings befitting their genre and status. These new formats allow us to open new restaurants near existing Matsuya restaurants. When opening multiple restaurants in the same building, synergy effects can be highly expected by offering customers more choice. Matsuya Foods is forging ahead with the development of new domains that will become the second and third operational mainstays of the company's business in the years ahead.